ONLINE CAMHS WELLBEING Teenager Mental Health April Session
A wellbeing information session for parents and carers on general Teenage Mental Health
The sessions are available to parents & carers of children & young people who are registered with a Bedford GP.
The sessions are for parents/carers and siblings over the age of 18, children and young people themselves CANNOT attend
The programme will run for 12 months with a different topic each month to include Exam & School Pressure, Bereavement and Eating Disorders. It will also include local services as well as strategies to help support and maintain positive emotional wellbeing in children and adolescents. Each topic will be run twice, once in a daytime slot and once in an evening slot.
To book for morning session on the 14th April 10am to 11:30am
Teenage Mental Health (AM session) Tickets, Wed 14 Apr 2021 at 10:00 | Eventbrite
To book for the evening session on the 28th of April 6pm to 7:30pm
Teenage Mental Health (PM session) Tickets, Wed 28 Apr 2021 at 18:00 | Eventbrite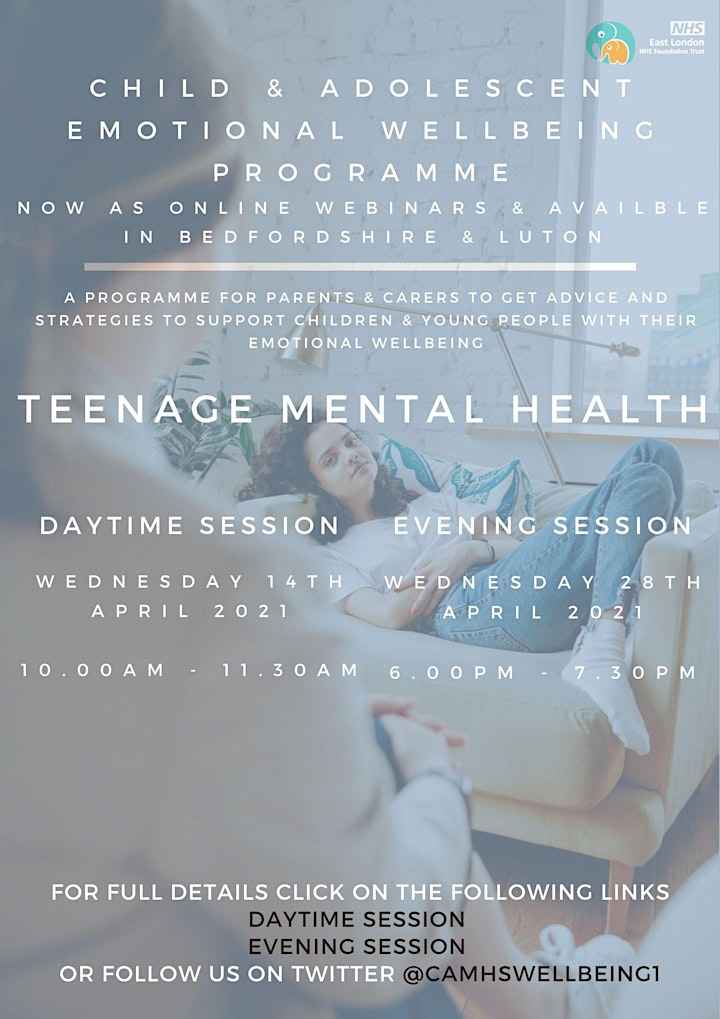 Time / Date Details
When is it on

14th April 10am to 11:30 28th April 6pm to 7:30pm

Time of day

Evening
Morning
Other Details
Age Bands

11-14 years old
18-25 years old
Parents and carers
15-17 years old